Welcome to the Year 6 page. Here we will keep you up to date with what we are doing.
Nissan visit
What a fabulous trip we've had at Nissan yesterday! From the delicious cookies to the fabulous teamwork, our children have had a glimpse into the world of manufacturing.
Some of our children had their designs printed by a robot!
Dukeshouse Diary
Day One:
Dear Parents/Carers,
We have arrived! We passed our first test of making our own beds and are settled into our dorms. Lunch was a success and we are ready to throw ourselves into everything Dukeshouse has in store. We will update you every morning but until then, have a great time without us!
Y6
Dear Parents/Carers,
We left school with a coach and a minibus full of excited children (and staff) this morning and arrived at Dukeshouse Wood after an uneventful journey.
The children were desperate to get into their dorms but there wasn't much time for making themelves at home, as we were straight into lunch and a full day of tasks.
Groups worked through activities including climbing, orienteering, laser tag and aeroball and a good time was had by all.
After dinner, three groups took part in a Mini Olympics whilst the fourth took on the 3G Swing.
Love from the pupils of East Boldon Juniors x
Mr Wilson, Mrs Burns, Mr Chilton and Miss Case 🙂
Day Two:
Dear Parents/Carers,
Morning mile complete! We enjoyed our 7.15am run to start the day off in a great fashion. Some chose their bed instead
we are all set for a fabulous day ahead!
Mr Wilson and Mrs Burns
Day Three
Dear Parents/Carers,
Although the weather on Tuesday wasn't as nice as Monday, we did manage to keep dry and enjoy a jam packed day of fun activities. From lighting fires and laser tag to abseiling and a mass game of football, every minute was active and exciting. So many children pushed themselves out of their comfort zone and tried new things even if they were 'terrified'. This definitely included Mrs Burns on the 3G swing!
It's a bit wet today but we're still looking forward to more activities that build team work, resilience and self confidence.
Lots of love from the Year 6 pupils
and Mrs Burns, Miss Case, Mr Chilton, Miss Rosenthal and Mr Wilson
Day Four:
Dear Parents/Carers,
Everyone enjoyed an obstacle course and the zip line this morning. The children were fantastic at working together and supporting each other to complete the obstacles and overcome their fears.
The afternoon saw a mixture of den building, constructing a low ropes course (making their own mini zip wire), getting very muddy completing the night line and climbing Jacob's Ladder.
The rain defeated us for the campfire in the evening so we opted instead for a film to keep warm and dry. Mr Shenton is visiting later today and he has promised to bring the sunshine!
Year 6, Mrs Burns, Miss Case, Mr Chilton, Miss Rosenthal and Mr Wilson
Dukeshouse Wood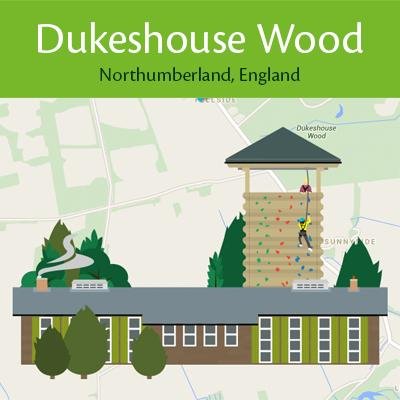 Thank you to so many of you that were able to come to the information session in school with your children.
Please find below the presentation for anyone that was unable to attend.
Dukeshouse Wood 2019 presentation
Mathematics Booster
The links below can help Y6 children tackle the kinds of Maths questions they will come across in this year's SATs. Click on the topic area you want to practise, look at and try the questions, then click on the YouTube links to see a video on how to answer the question correctly, and see if you got it right!
Tip: If you have a printer at home, you could print the questions page and write your answer on the sheet before you watch the YouTube video for each question.
Maths topics
002 – Column Methods Add + Subtract
005 – Factors,Primes + Squares
007 – Frac Dec Perc Equivalence
010 – Multiply Divide by 10, 100, 1000
012 – Multiplying and Multiples
020 – Explain by Counterexample
032 – Measurement Conversion of units
033 – Missing Lengths from Diagrams
037 – Reading Scales + Number Lines
SATs
Lots of parents want to know more about SATs. Here is a helpful guide (scroll down to cycle through the slides or click the download button):
Victoria Tunnel
Year 6 had a wonderful time at the Victoria Tunnel this week. Not only were we complemented on our fantastic behaviour and well thought out questions, we had the chance to hear from a 90-year-old evacuee. We looked at lots of primary evidence and even tried on a gas mask. The tunnel was a fantastic experience. This gave us an excellent insight as to what it was like in a shelter.
Eden Camp
Year 6 pupils experienced WWII for themselves at Eden Camp. They particularly enjoyed learning about The Blitz, U-boats, women at war and the Great Escape.
Maths in Motion Day
Our Y6 pupils had Formula 1 cars revving in the hall during their Maths in Motion day. The pupils used maths, science and computer programming to calculate the track length, car speeds, engine temperature, tyre wear, petrol consumption, aerodynamics and gear shift ratios. They finished the day with a big race. Sounds like we may have a few budding race engineers in our school. Well done to everyone in Year 6
This slideshow requires JavaScript.
Introducing our new topic: PUT THAT LIGHT OUT!
Here is the Year 6 Autumn Term curriculum map:
Year 5 Archive (2017-2018):
Enterprise Rewards
Year 5 raised over £800 during their Enterprise projects this year. They decided to put the money towards a trip to an indoor trampoline park (with a little bit of help from school). This venture has taught the pupils about business acumen: setting budgets, profit margins and setting financial targets. They had a lot of fun in the centre and by the looks of it teachers did too!
Y5 at The Rising Sun Country Park
Year 5 visited the Rising Sun Country Park to learn about the great outdoors, specifically:  lifecycles of amphibians and they also learned bush craft skills.
Disco Fever
A huge thank you to everyone for supporting the school disco on Thursday. The pupils (and staff) had a wonderful time. Once again, we would like to personally thank the PTA and DJ Windle for creating such a great event.
Super Scientists
Year 5 pupils have been planting seeds to learn about the lifecycle of plants. They have potted sunflower seeds, peas and runner beans.
Play Leaders
A number of our Year 5 pupils have trained to become Play Leaders for our playground. They are introducing games to one of our playground zones, which include: basketball, dance, skipping, gym, games, athletics and a well being zone.
World Book Day
Well done to everyone for your amazing writing and wonderful book character costumes for World Book Day 2018!
Singing Club
Miss Case has introduced a Singing Club in school at lunch time. If any pupils would like to join the group, please speak to her.
Y5 Parent Event
Thank you to so many families for attending school for this term's Y5 parent event. We learned so much this term and loved sharing it with you all.
Citizenship Awards
Well done to one of our Y5 pupils for winning the Citizenship Award from our local Police Officers. We care about fantastic community!
SWISH! Nothing but net!
Following a series of coaching in school, our Year 5 Basketball Team reached the regional finals and earned the opportunity to perform at half time during the Newcastle Eagles v Leicester Riders. We won our semi final, but had to settle for silver in a hard fought final. Well done, East Boldon!
It's a funny old game!
Some of our Y5 pupils are breaking into the school football team. We have completed half of our season and look forward to further matches in the Summer Term.
International School Award
We have once again been successful in achieving the International School Award this year. One of our Year 4 pupils received the award from Will Millard, a BBC presenter and expedition leader, at an event in The Tyneside Cinema in Newcastle-upon-Tyne.
Easter Eggs-travaganza!
Well done to everyone who created a decorated Easter Egg this year. They were absolutely amazing!
Music Tuition
Many of our pupils take up guitar lessons in Year 5, if you are interested please get in touch with the school office and we will happily let you know about the various instruments and in  school and extra-curricular tuition available.
Fun in the snow
We've been so lucky this year to get days with the snow. We created snowmen, snowdogs and snowbots!
Year 4 archive (2016-2017):
Year 4 spent a fabulous day at Openzone@The Word in South Shields. Here we learnt to make an animation featuring all of the animals we had learnt about in class. We had to write the words to accompany our story in French of course.
We also made a film in the television studio using green-screen technology. We learnt to sing several songs in French. We thoroughly enjoyed our day, and improved our French!
This slideshow requires JavaScript.
Our class assembly was about Ancient Egypt. I really enjoyed it and I played the young archaeologist club leader. I was in charge of the children and it was really fun.
During our Ancient Egypt topic we learnt about what happens when pharaohs die. We even wrapped each other up in toilet paper! I enjoyed making a mummy because I was the mummy!
I loved making my brooch, making the brooch was amazing because you can let your imagination run wild and you can be so unique.